Like most of us beauty lovers, i would LOVE to keep dropping all my money on the new mac, makeup forever, Urban decay and my list can keep going! BUT i became furious when i went shopping for eyeliner and found out the 4 of the eyeliners i was picking up (range from $17- $30) they are ALL THE SAME THING! My dear friend who works at sephora also comfirmed i was right! I am sick of the brand name bullshit and the 60% + upcharge they add to these items.. umm hello its just like fashion, it doesnt have to be expensive to be good!!
ANYWAYS i found some amazing buys and was so proud i didnt include everything i purchased since that would have been way to much but ill list some of it in as well ;) plus i had already organized it in and didnt want to pull it out. Here we go!!
Sephora Jcpennys Bay area:
Kat Von D Rock 'N Roll Eyeshadow Duo in "Riff Raff" $10.00 (50% off!)
i only liked this one for some reason.. the other looks kinda.. well crappy
Ulta Visit in the Bay Area:
PLEASE PLEASE PLEASE sign up for the membership beauty card its free and you get free products! plus i had a $5 dollars off any 10 dollar purchase so i was excited!
My beauty points got me this time around TIGI BEAD HEAD Foxy Curls HI-DEF Curling Spray (FOR FREEEE!!)
I also picked up Urban Decays Lipstick in Rush @ $22.00 (AMMMAZING) and i got 2 deluxe 24/7 eyeliners as a GWP. I picked Crash (one of my favorites) and Electric!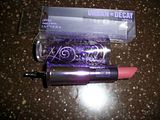 NYX Eyeliner In Silver, Purple, & Seafoam -Green 2.99 each
Loreal HIP Eyeliner in Black shock -7.99
Because the target was under construction they had more beauty items on sale than normal!!
I picked up 4 different revlon and loreal blushes for $2.64 each so go look!
StudioTools makeup Brushes: Smudge, Crease & Liner all at $2.64
these brushes are super soft and pick up the eyeshadows just like a $20 dollar brush would!! and they are year round brushes at target next the the nail polish!
2 Call your Bluff nail file & polish filers for only $.74
2 E.L.F Eye Makeup Remover pads 18 count $1.00ea
1 E.L.F. Nail Polish Remover Pads 18 count $1.00
Hot Topic Bay Area:
Purchased 2 necklaces and 3 Color Fiend clip-in extension (buy 2 get 1 free)
colors in: Platnium, Red, and blue
StarsMakeup Haven Online Order i recieved on Monday! I labeled my palette myself!
This whole palette was $56.00 with tax and shipping and handling! I KNOW that seems like alot but thats only 5 MAC refill eyeshadows not 15 eyeshadows KILLER DEAL!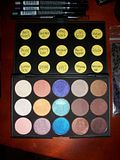 Colors i ordered were i...
Bee's knees, divine, southern belle, bombshell, peachy keen, vintage, ultra violet, parakeet, 1492, ciao bella, show stopper, cashmere, couture, cocoa, and dominatrix!
Nail Polish as well of course!!
In Order:
Sally hansen salon in Gilty Pleasure- $4.99 @ target
Nicole by OPI in Lemon-Lime Twist- @ Target
Nicole by OPI in Mango Maven - 6.99 @ Target
OPI in BLING Dynasty - $8.50 w/GWP
OPI in Curry up dont be late! - $8.50 w/GWP
ULTA OPI SALON GWP:
colours in: OPI INK, ROSY FUTURE, TOP COAT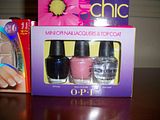 LAST BUT NOT LEAST!!
Fashion Bug clearence find only $5.98!! YES basically $6 dollar heels! they look so cute on!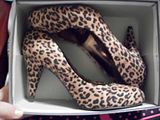 I believe if you take your time and ask the right questions you WILL find great items for reasonable prices!! OK no more shopping for well a couple days ;)
Always Ashes!!!